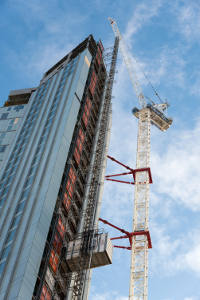 According to BMI Research, within the end of 2015 and 2024, the construction industry will grow globally by an annual average of 3.2%, reaching the nominal value of more than USD 6.0 tn (www.bmiresearch.com).

This significant growth will be led by Asian countries, such as China and India, however, it is expected to generate a wide range of business opportunities within many other countries too.

Indeed, "while North America and Western Europe (NAWE) will expand at a relatively slow pace, these markets' low risk profile and developed regulatory frameworks will remain attractive to investors" (BMI Research - Global Construction Outlook 2015-2024: Cementing Asia's Dominance, May 1st, 2015).

With New York and London expecting around USD 30 bn worth of construction annually for the next two years and the ambitious profitability margin goals set by the largest contractors, the biggest challenge for western countries in the upcoming future is expected to be the reduction of construction costs, obtained through the increase of productivity during the life of the projects (KPMG – Global Construction Survey 2015).

As part of this global committment and according to ISO 9001:2008 standards, ORLANDO is undertaking concrete actions in order to continuously improve and standardize its internal processes, with the aim of avoiding inflation in production costs, which is expected to be around 5%, within the industry, during 2016.