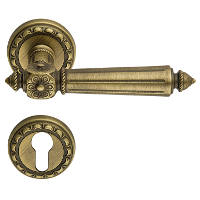 Bronze is the new gold

On November 21st, 2015, ORLANDO launches its latest bronzed handles collection in Dubai, during the "Big5" Exhibition, fulfilling the current market's seek for balance and style.
In fact, in a world of uncertainty and financial instability, international architects are pleasing the widespread need of moderation and social cohesion by redescovering materials and finishings from olden days.

Thanks to its warmth, durability and versatility, bronze is the emblem of never-ending elegance and it plays the main character's role within the palettes of modern designers around the world.
Within the bronzed handles collection, the style of the entirely-made-in-Itay ORLANDO brass handles is enhanced by the everlasting charm of the bronze finishing, as it makes every door accessory perfectly appropriate for both contemporary and antique interiors.
Indeed, bronze goes with everything, including the more popular gold.
Jean-Louis Deniot, international interior designer, states that "Shiny gold is a wonderful contrast to the roughness of bronze. Gold dresses up bronze, and bronze dresses down gold" (Helen Chislett – The new bronze age).

Therefore, do not be afraid to create original contrasts by combining the ORLANDO bronzed handles with different styles of interiors, as bronze is the new gold.