This year, design experts will be leaving Scandinavian minimalism to the past, embracing a much richer and eclectic philosophy.
According to this renovated context, the mix of metal accents in one room will be considered as extremely fashionable and up-to-date.
However, as per every maximalist trend, it should be skillfully implemented, in order to avoid the overwhelming "just too much" effect.
Here below are a few tips that could guide you through this new rich idea of interiors:
1) Dare to think: "More is More"
2) Mix no more than two or three different metals in the same room: try and find the appropriate mix of eclecticism and delicacy
3) Brass, gold and nickel accents look perfect together with oil-rubbed bronze or aged iron
4) Silver and pewter match with bronze and black brown metals
Orlando Splendid brass handle collection loves the saying "More is More" and it will perfectly match this new trend of interior design.
Check it out for more inspiration!
Our favorite lockset of the month?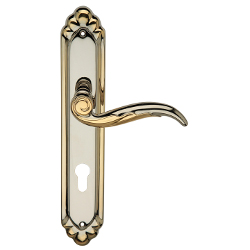 Doha handle in the gold plated/platinum version, together with lock 104/A in gold finish.
Doha set is a triumph of Made-in-Italy elegance and style, delivered to you and your customers anywhere in the world.
Picture and content credits: Ms. Lucia Tonelli (elledecor.com), keitaturnerdesign.com