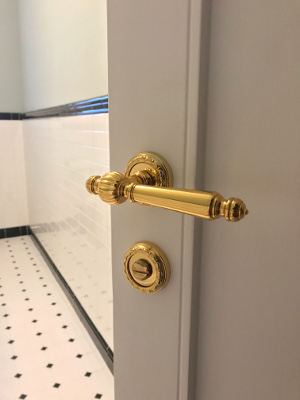 Architects around the world agree: tiny houses and micro-apartments will be the future of urban homes.
They will soon represent a significant share of the total real estate market within cities all around the globe.
Smaller living spaces will be the answer to the fast growing population of the big cities and they will contribute to energy and cost savings, to the benefit of the health of the earth and everyone living on it.
Interior designers have already accepted the challenge, introducing the colour white in countless projects worldwide.
In fact, it is well known that lighter colours and finishes make every room look bigger and brighter.
So, green light to white furniture and accessories!
Be careful though, since the risk of a cold and impersonal effect is around the corner.
Add a beautifully Made-in-Italy handle in gold finish to your white doors for a very stilish and refined look!
Orlando Dublin is the brass handle you are looking for.
The unique design of Orlando Antique Dublino Made-in-Italy handle has been inspired by the famous Four Courts Building in Dublin, designed by James Gandon, the renowned English architect, whose better known works can be found in Ireland and date back to the 18th century. The round part of the handgrip recalls the dome of the building, while the tapered one takes its features from the rich colonnade, placed in front of the Courts.
Compose your lockset by clicking here.
You don't need a huge home to make it your own, but you do need handles and locks and they must be Orlando's.